So you finally said "yes!" to your love's proposal. Once your circle knows about the good knows, surely they'd be asking the question, "When is the big day?". Before you get caught unprepared, it would be great to think about it and decide early on. Apart from having an answer to the question in case someone asks, deciding on the date early will also give you ample time to get everything ready and achieve that wedding you've been dreaming for years.
Choosing a date shouldn't be that hard but there are some things you need to consider in doing so.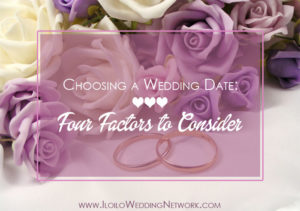 SIGNIFICANCE
This is an important factor in choosing the date. Would you want your wedding day to fall on your anniversary as a couple? Or perhaps you want to exchange "I do's" with your partner on the day of his birthday? When choosing the date, it is best to determine what is the significance of that potential date to your relationship and to your lives in general. Of course you can always choose any random date but choosing a date that is significant to you and your partner will make the celebration more special and memorable.
SEASON
Weather is another important factor to consider when choosing a wedding date. If you are aiming for a beach or garden wedding, it is best to schedule your wedding on a summer day since there is less chance of rain. If you prefer indoor ceremony as well as reception, then you can have your wedding any time of the year.
HOLIDAY
Guests, especially those who are out-of-town or from abroad, are more likely to attend if your big day falls on a sem break, Christmas break, summer vacation or long weekend. But take note that holidays affect the costs of various things such as hotels, caterers and even churches. Should you choose the holidays, be ready to shell out a little more for these. Also, holidays often get booked way ahead of time, some as early as a year or two prior, so it pays to be an early bird just so you can snag that date.
PERIOD of PREPARATION
Most couple allot one year for their wedding preparation. If you think you can get everything ready in a year, then you can schedule your wedding day for next year. If money is not an issue or if your vendor choices are flexible, six months is doable.
Have you chosen your wedding date? If so, you may now choose your wedding dream team.

Choosing your Wedding Date: Four Factors to Consider