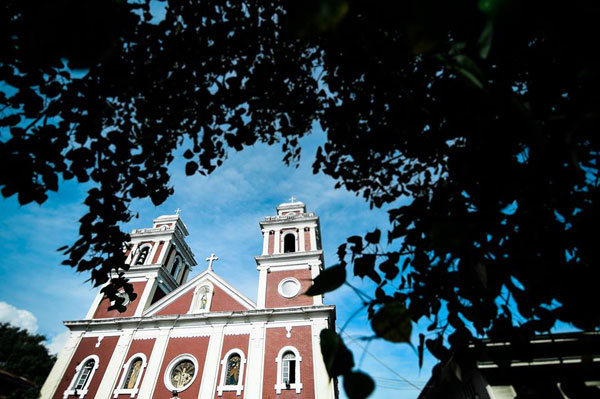 Questions or Rate inquiries?
Contact No.:
(033) 336 4802
Location:
Calasanz St, Iloilo City Proper (Plaza Libertad)
Photo credit: Gerald Macabate Wedding Photography
Basic Requirements on Wedding Rites
Newly issued Baptismal Certificates of Bride and Groom with the annotation "For Marriage Purposes Only".
Confirmation Certificate of Bride and Groom
Marriage License from the Local Civil Registry Office where a party is a resident or the Marriage Contract if civilly married already duly registered in the Civil Registry Office.
Ecclesiastical Banns or "Tawag" Announcement of Marriages in the respective parish of bride and groom for three Sundays.
Bride and groom must undergo "Pre-Cana Seminar". Scheduled every 2nd and 4th Sunday of the month 2:00 PM (one session only) or you can attend in other parishes provided you secure a certificate to that effect.
Permit from the parish priest of the bride if she is not a parishioner of San Jose Parish.
Foreigner applying for a marriage with Filipino citizen must have a clearance first from the Archdiocesan Chancery Office, Archbishop of Jaro.
List of names of Principal Sponsors.
2×2 pictures.
To fill up the questioners for the Interview and
Canonical Investigation of the bride and groom.
Canonical interview of the bride and groom by the priest.
Reservation fee of Php 500.00 is required. Non-refundable but deductible. Reservation should be finalized one month before the wedding date. Non-confirmation means cancellation of reservation.
Punctuality is enjoined. late for 20 minutes no more mass, ceremony only.
Priests who are friends or relatives of the bride and groom may be invited to solemnize their wedding provided they have the authorization from the proper government agency.
All necessary papers must be submitted two weeks before the wedding date.
Alloted Time
9:00 AM – 11:00 AM
2:30 PM – 4:30 PM
Regular Wedding Schedule
Every Thursday after the 7:00 AM or 5:30 PM mass
For parishioners only Php 500.00 donation
Mass Wedding
Every third Thursday of the month (for indigent parishioners only)
Free after the 7:00 AM or 5:30 PM mass
Donation of Php 10,000.00 which includes:
Wedding mass and ceremony
Royal red carpet
Lights (altar, chandelier and video lights)
Choir
Use of organ