Each time we get invited to attend a wedding, one of the first things that comes to mind is the gift we are going to give the couple. Filipinos usually give furniture, appliances and other household items for the couple to start their married life easier. Some would give gift certificates to spa, hotel accommodation and others.
One of the less common items given on a wedding day is a book. However, if it is about marriage and relationships, then it surely is beneficial to the couple.
There are many marriage books in the market today and we are sharing the top five popular books based on BookDepository.com.
Facing the Complexities of Marriage with the Wisdom of God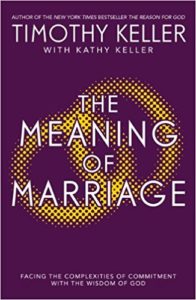 In previous books respected New York pastor and bestselling author Timothy Keller has looked at such diverse and topical subjects as the existence of God, our need to do justice, the meaning of Jesus' life, and the human temptation to make idols – all through the twin lenses of a biblical framework and an engagement with contemporary culture. In this new book, co-authored with his wife, Kathy, he turns his attention to that most complex of matters: our need for love, and its expression in marriage. Beginning with the biblical narrative, and its pictures of marriage that span the original ideal to the broken to the redemptive, he looks at themes of friendship and commitment; the completion of men and women in each other; singleness, sex and divorce; and ministry and discipleship within the context of marriage. This is a profound and engaging work that will challenge and inspire people in all stages of life – single, newlywed and married.
Author: Timothy Keller
Goodreads ratings: 4.43 out of 5 stars
A Practical Guide from the Country's Foremost Relationship Expert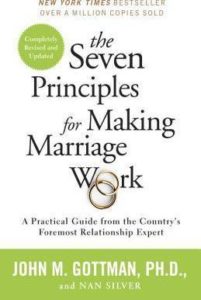 With more than a million copies sold worldwide, The Seven Principles for Making Marriage Work has revolutionized the way we understand, repair, and strengthen marriages. John Gottman's unprecedented study of couples over a period of years has allowed him to observe the habits that can make–and break–a marriage. Here is the culmination of that work: the seven principles that guide couples on a path toward a harmonious and long-lasting relationship. Straightforward yet profound, these principles teach partners new approaches for resolving conflicts, creating new common ground, and achieving greater levels of intimacy. Gottman offers strategies and resources to help couples collaborate more effectively to resolve any problem, whether dealing with issues related to sex, money, religion, work, family, or anything else. Packed with new exercises and the latest research out of the esteemed Gottman Institute, this revised edition of The Seven Principles for Making Marriage Work is the definitive guide for anyone who wants their relationship to attain its highest potential.
Author: John Gottman
Goodreads ratings: 4.18 out of 5 stars
Keeping Love and Intimacy Alive in Committed Relationships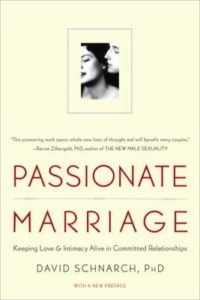 Passionate Marriage has long been recognized as the pioneering book on intimate human relationships. Now with a new preface by the author, this updated edition explores the ways we can keep passion alive and even reach the height of sexual and emotional fulfillment later in life. Acclaimed psychologist David Schnarch guides couples toward greater intimacy with proven techniques developed in his clinical practice and worldwide workshops. Chapters-covering everything from understanding love relationships to helpful "tools for connections" to keeping the sparks alive years down the road-provide the scaffolding for overcoming sexual and emotional problems. This inspirational book is sure to help couples invigorate their relationships and reach the fullest potential in their love lives.
Author: David Schnarch
Goodreads ratings: 4.11 out of 5 stars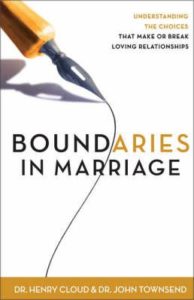 Learn when to say yes and when to say no– to your spouse and to others– to make the most of your marriageOnly when a husband and wife know and respect each other's needs, choices, and freedom can they give themselves freely and lovingly to one another. Boundaries are the "property lines" that define and protect husbands and wives as individuals. Once they are in place, a good marriage can become better, and a less-than-satisfying one can even be saved.Drs. Henry Cloud and John Townsend, counselors and authors of the award-winning best-seller Boundaries, show couples how to apply the 10 laws of boundaries that can make a real difference in relationships. They help husbands and wives understand the friction points or serious hurts and betrayals in their marriage-and move beyond them to the mutual care, respect, affirmation, and intimacy they both long for.
Author: Dr. Henry Cloud & John Townsend
Goodreads ratings: 4.23 out of 5 stars
What If God Designed Marriage to Make Us Holy More Than to Make Us Happy?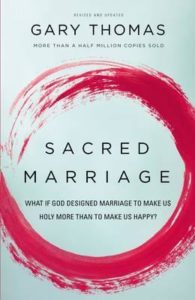 Happy is good. Holy is better.Your marriage is more than a sacred covenant with another person. It is a spiritual discipline designed to help you know God better, trust him more fully, and love him more deeply. What if God's primary intent for your marriage isn't to make you happy… but holy? Sacred Marriage doesn't just offer techniques to make a marriage happier. It does contain practical tools, but what married Christians most need is help in becoming holier husbands and wives. Sacred Marriage offers that help with insights from Scripture, church history, time tested wisdom from Christian classics, and examples from today's marriages.Sacred Marriage reveals how marriage trains us to love God and others well, how it exposes sin and makes us more aware of God's presence, how good marriages foster good prayer, how married sex feeds the spiritual life, and more.The revised edition of Sacred Marriage takes into account the ways men's and women's roles have expanded since the book was first written. It has been streamlined to be a faster read without losing the depth that so many readers have valued.Sacred Marriage uncovers the mystery of God's overarching purpose. This book may very well alter profoundly the contours of your marriage. It will most certainly change you. Because whether it is delightful or difficult, your marriage can become a doorway to a closer walk with God, and to a spiritual integrity that, like salt, seasons the world around you with the savor of Christ.
Author: Gary L. Thomas
Goodreads ratings: 4.24 out of 5 stars
Marriage books are an ideal gift during bachelor/bachelorette's party as well.
Book Depository offers free delivery worldwide so no need to worry about the staggering cost of international shipping.
Five Most Popular Marriage Books