Giving away of souvenirs is a common practice in every Filipino wedding. It is one way of the couple to express gratitude to everyone who came to witness and celebrate with them. The items being given away also serve as a remembrance of this special occasion.
Back in the day, we see weddings with figurines of couples as souvenirs. Crocheted items such as miniature wedding bells once became popular wedding souvenirs too. There are also couples who chose to give useful items such as mugs, pillows, handmade pouches, scented candles, and organic soaps.
Not so long ago, the trend in wedding souvenirs has evolved into something that is not only useful and beautiful but also grows. Seeds and plants particularly succulents are currently fast becoming popular souvenir items. They make great eye candies too in the reception venue. In Iloilo, there are a few people whose love for plants paved a way for them to go on this business venture.
Should you consider giving away succulents on your wedding day, or any other occasion, here are some suppliers you may want to consider.
Mrs.G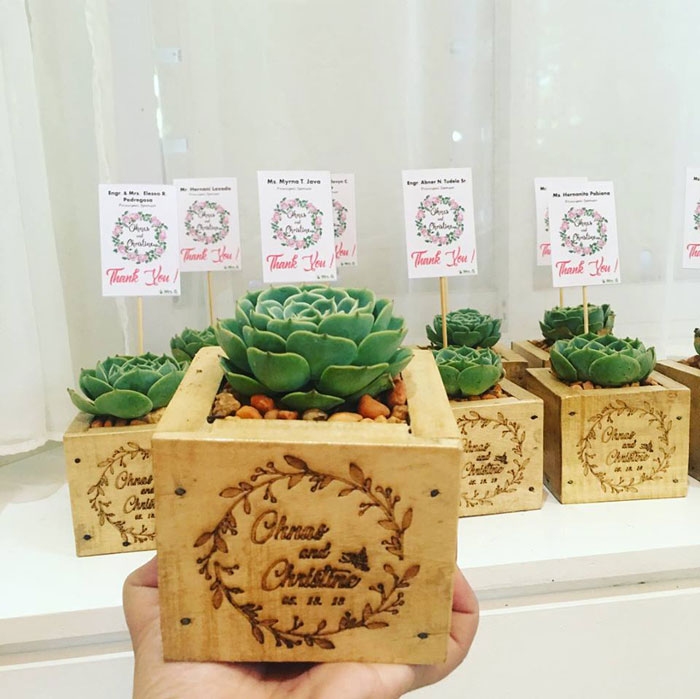 If you have the passion for something, why not start a business related to it? That is how Mrs.G started! What encouraged Kath Clavel-Galuno to put up Mrs.G is her passion and love for succulents, cactus and plants. With over a thousand followers on Facebook, it is undeniable that Mrs.G is the top supplier of succulents in Iloilo. In addition to family, friends and friends of friends, this start-up business is now happily serving clients and events not only within Iloilo but other provinces in Panay and Negros Occidental. Other products they offer include made-to-order plant dish (indoor dish/outdoor dish) and potted aloes (at different varieties) as room plant.
To maintain the quality of their products, Mrs.G does not accept orders requiring products to be shipped as plants tend to get broken or damaged from shipment mishandling.
Twine Decors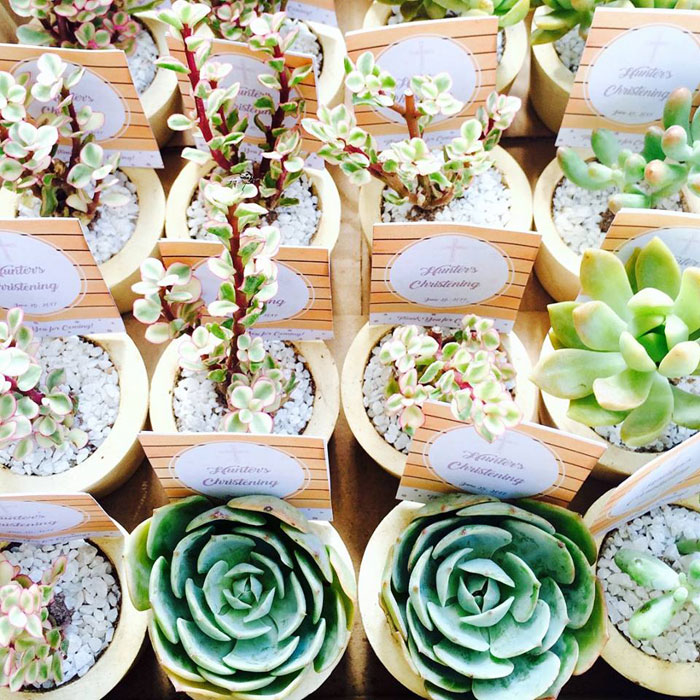 Twine Decors has a feel-good Facebook timeline courtesy of the photos of all those lovely succulents in pretty pots with dainty decors. They have echeveria, kalanchoe and many more. Not only that! They make their own pots too! They've been in this venture for almost two years and have produced such pretty succulents to several weddings, baptismals and even corporate events.
Additionally, they make basket weaves and offer interior design too.
Succulents From A Garden By Elorah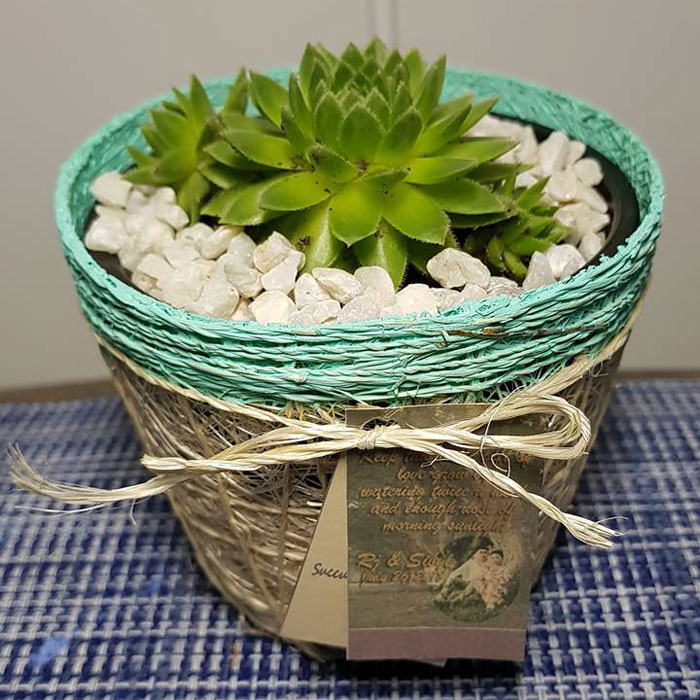 Having the time to do what you are passionate about is just amazing. That is how this business started. Succulents From A Garden by Elorah is the fruit of one's passion with these lovely plants. It's been on the business for a year now, mostly growing semi rare succulents and some cacti variants. Aside from that, this business is made more special because of two things. One, the income generated is spent for the medical bills of the owner's daughter who has a rare bone disorder called Osteogenesis Imperfecta. Two, some souvenirs utilizes driftwood as pots. The driftwood is a source of income for the indigenous residents of a barangay in Tubungan.
Should you choose this supplier for your wedding day souvenirs, you are not only getting something for your guests, you are also helping a little girl get the medication she needs and giving more work and income to the indigenous people.
Iloilo House of Cactus and Succulents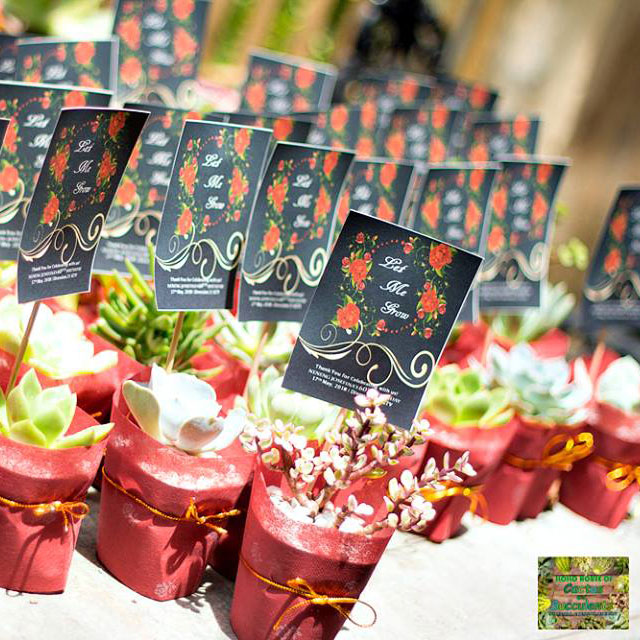 Feast your eyes on the Facebook fan page of IHOCAS. Those pictures of succulents in coco pots with blue or pink ribbons are so good to the eyes it fills your heart with joy.
A plant can be likened to love, it grows! And just like plants, love needs to be taken care of in order to survive and grow. There's nothing as fitting for a souvenir of that one beautiful day as these beautiful succulents.
For more souvenir suppliers in Iloilo, check out our souvenirs listing.
Succulents: Souvenirs that Grow!