Asking for cash as a wedding gift, or asking for gift in general, used to be taboo back in the days since it is rude to ask and besides, gifts should be heartily given. I remember receiving a wedding invitation with a note saying that the couple prefers cash for gift. Oh the comments I heard from the elders! But nowadays, more and more people are open to the idea of gifting cash, instead of in-kind, for various reasons.
If you are the giver, it'll save you from all the trouble of thinking of the appropriate item, buying it, wrapping it and taking it to the event. With cash, you can just place the money in the envelope and carry it in your purse. You can also buy gift cards if you think they look more presentable than the envelope. SM Gift cards come in various themes including birthday, Christmas, wedding, baby christening and many others. Denominations are Php 500, Php 1000 and Php 2000. No bulky package to carry, right?
If you are the receiver, you can spend it in any way you want. With cash, you can use it for your honeymoon trip, add to your budget when you are still saving for a house or add to your investment, retirement, emergency fund or savings for your future kids. Additionally, you never have to deal with receiving double, triple (or more) of the same kind. There are couples who received five rice cookers, six wall clocks, two refrigerators, etc. Clearly, you will be needing only one refrigerator, right? Unless you are planning to start a business that may require the use of refrigerator, then having another one is a big help.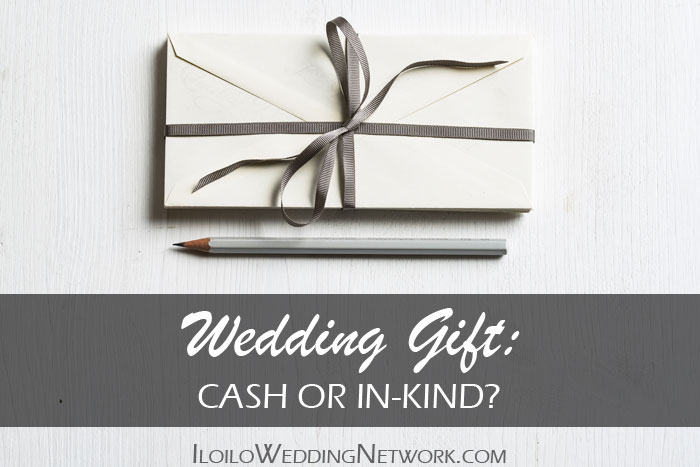 So how do we ask for cash gift?
Proper wording is your friend when it comes to this. In other countries, the phrase "no boxed gifts" are included on the invitations. However, not all people may understand the point. Alternatively, you can use the most common and easy to understand approach, the poetic approach. See the examples below:
Your presence at our wedding is all that we wish for. However, if you want to give a gift, we will be grateful for a small cash donation towards our new future/house renovations/honeymoon/or whatever you plan to do with the money.
If you were thinking of giving a gift to help us on our way,
A gift of money in a card would really make our day!
Check out these sites for more poems and wordings on how to ask for cash gift:
Giving of gifts can be a delicate issue, not just during weddings, but during many other occasions as well. Let us remember that aside from tradition, giving of gift brings so much joy not just for the receiver but the giver as well.
If you are a couple who prefer cash as a gift, may this article give you an idea how to do it. Don't feel pressured or anxious about mentioning your preference. Your family and friends will probably be glad that they no longer need to think of what to give you on your big day.
Cash or In-kind: How to Ask for a Cash Gift